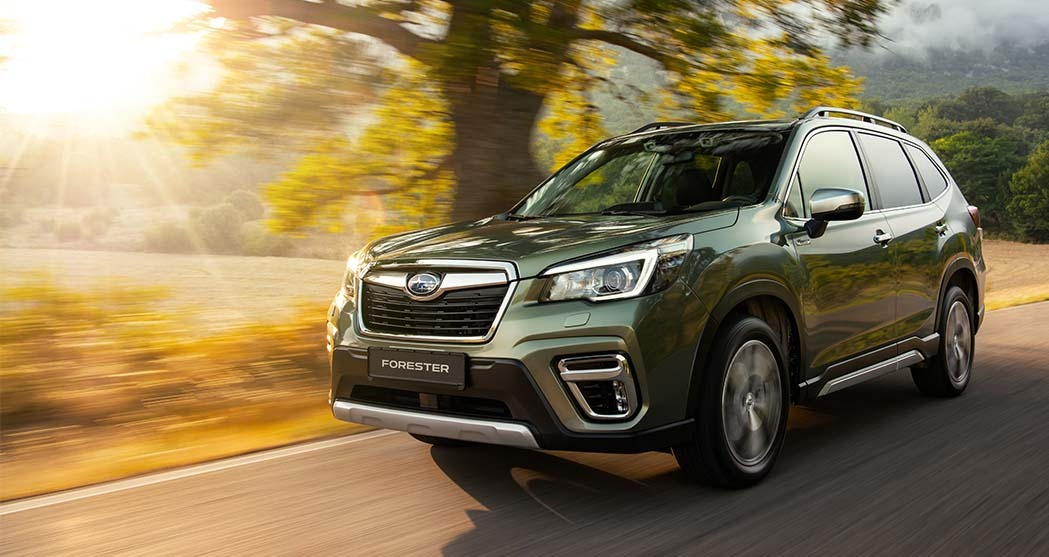 IT'S TIME TO PREP YOUR CAR FOR POST-LOCKDOWN DRIVING
Spring has sprung, and the changing of the seasons is bringing even more hope and optimism than usual for most of us this time around...
We've all spent a year in and out of lockdown and otherwise adhering to tight restrictions on our movement and ability to meet and socialise with family and friends. So the vast majority of the UK population is yearning for 'the big escape' – whether that's the simple pleasure of a road trip beyond the border of your 'local area' or a full-blown holiday getaway.
But is your car as ready for an adventure as you are?
Unless you're one of our much-appreciated key workers (a big 'Thank You!' if you are), the chances are that you haven't been driving very far at all in recent months. So your Subaru is likely to be feeling a little stiff and sluggish from being housebound for so long. Aren't we all?
With a roadmap now tentatively drawn up for a route out of lockdown, we look at how to prep your car for driving after lockdown, when we're allowed to get out and about – and why your local Subaru dealer knows best when it comes to your car's specific needs.
Book a seasonal vehicle check
The easiest and most reliable way to ensure your Subaru is in the best possible shape as we emerge into spring is to book a visit to the workshop at your local dealership.
All Subaru dealers offer a vehicle 'health check' service and it's something we highly recommend for owners as we move from winter into spring/summer, and again from autumn into winter. Where you're based in the UK will naturally affect the timing of this, but your local dealer will always be ready to help prepare your car for these key seasonal changes.
A seasonal Subaru health check will cost significantly less than the compulsory annual MOT test fee – and your dealer may even opt to offer this service completely free.
Just call to enquire, and your dealer will be happy to have a chat to help advise you of the inherent value of this extra attention to detail before you regularly jump behind the wheel and get out and about on the roads again.
Built to be Better Where It Matters
Often, a Subaru is so much more than just a simple passenger car. Up hills and down dales across the UK, we know our vehicles are frequently challenged to tackle the sort of adverse weather conditions and tricky terrain that makes for demanding driving.
Naturally, a Subaru will take this in its stride. But a little TLC to keep it in tip-top condition will always pay dividends in terms of optimum performance, whenever and wherever you need it.
So it's important to always consider locally specific driving scenarios as well as the general overall condition of your car. Your dealer knows and understands both of these factors extremely well, and will automatically integrate this knowledge into the health check that's run on your vehicle.
Local familiarity means your dealer knows best
Subaru dealerships are independent, often family-run, businesses and they always have strong connections with their local communities. When you're spending money with them by buying and owning a Subaru, they'll be keen to repay that goodwill and loyalty in the high level of customer service they offer you.
Subaru dealers pride themselves on knowing their customers as well as they know their local area. So they'll know the community vets, GPs, farmers, emergency response volunteers, Mr Brown, Mrs Smith and the Jones family as well as they know all the potholes, high peaks, temporary roadworks and potential flood points on the routes around their territory.
With this knowledge and customer insight comes an innate understanding of how to ensure your Subaru is primed to give you the best possible performance in local conditions.
If you have any specific driving needs, feel free to discuss these with your dealer too. So be sure to mention your requirement to be confident in your car's ability to handle hill-starts or to tow a trailer or caravan; to deal with the lumps and bumps of a rutted track in a rural location, or regular speed bumps on suburban streets, for example. These are all things that the mechanic can bear in mind while running the checks on your vehicle.
Help to cope with seasonal driving conditions
Regardless of your location within the UK, there are key things that your dealer will always look at.
First and foremost are the essential Subaru safety systems in your car – this is a task that only Subaru technicians have the training and special diagnostic equipment to be able to perform. If you haven't used your car regularly in recent months, it's very important to check that all safety features are operating as they should.
Additional checks will cover:
Anti-freeze sensors
Battery
Tyres
Brakes
Fluid levels
Lights
Washers and wipers
Suspension
Steering
Local knowledge will also enable the workshop team to potentially examine some aspects of your vehicle in greater depth.
If there are lots of potholes on your local roads, for example, your dealer will know to take extra care to check your car's suspension and the condition of the tyres for any damage that may have been done. Or maybe your region has suffered a harsh winter. If there has been lots of salt and grit on the roads to help with ice and snow, your dealer might want to look for signs of any corrosion on the undercarriage and for wear and squeal in the brakes.
Clear benefits for you and your vehicle
All of these checks are designed to help ensure your vehicle is in optimal condition as weather and road conditions change – and to provide you with ongoing peace of mind about the advanced safety, capability and reliability of your Subaru.
Carefully checking the tyres for tread pattern, depth and any cracks can not only have a huge impact on performance and safety, but also on your wallet. Tyres that are in good condition will help make your car more efficient in terms of fuel consumption, but also ensure the tyres last longer too – maybe helping to minimise the cost of your car's next service.
Regular checks like this can also prove to be a sound investment in supporting the resale value of your vehicle. If you're starting to think about the potential of buying a new Subaru and upgrading to one of Subaru's hybrid SUVs or crossovers – like Forester e-BOXER or XV e-BOXER, for example – you'll want to ensure you do everything you can to maximise the residual value of your current car for part-exchange purposes.
At the same time as doing these seasonal checks, your dealer will be able to verify if there are any outstanding safety recalls or rolling update maintenance requirements for your specific vehicle. These important updates, which can only be implemented by Subaru technicians, help ensure optimal road-handling and performance.
Peace of mind for post-lockdown driving
The seasonal vehicle checks offered by Subaru will typically take less than 30 minutes, so can usually be done while you wait in the comfort of your local dealership.
Of course, an easing of lockdown restrictions doesn't mean the Covid-19 pandemic is suddenly over. So you should still expect social distancing and some contactless service practices to be in place. But we hope you'll be able to enjoy a coffee or tea in the reception area, and maybe have a look around the showroom while you wait. It never hurts to start thinking ahead…
On that note, if you're going to be taking your car further afield for a UK holiday this summer, a post-lockdown health check is certainly advised.
Or perhaps you're planning a continental driving adventure in Europe as soon as we're all allowed to travel abroad again? If so, you'll need to be aware of new post-Brexit driving rules and regulations for driving in Europe. We'll be covering those in a forthcoming article, so watch this space…
For the time being, make the most of the thought that Subaru has put into offering this easy and convenient post-lockdown driving peace of mind package for you.
Give Fife Subaru a call today to discuss the essential checks that we would recommend for your vehicle at this time of year.